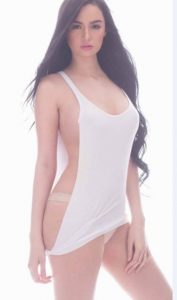 "Oh shit sir cge pa… Harder please…" pagsusumamo ko.
"Shhhh… wag ka maingay baka may pumasok dito."
"I don't care! All I want now is u to fuck me hard."
Yes I am begging him to fuck me harder. Nasa loob lang kami ng kanyang ofis while my colleagues are busy working outside. Anytime pwede may pumasok and caught us fucking pero wala na kaming pakialam. Ang nagagawa nga naman ng libog!
He is my manager at alam ko bago palang ako sa ofis, may pagnanasa na siya sa akin. He is old enough para maging tatay ko pero isa sa mga gusto ko eh yong mga may edad na kasi magagaling na mga yun at hindi self-centered.
It all started this way….
"Elle tawag ka ni sir," sabi sa akin ni Angie.
Kaya I took a glance sa mirror bago tumayo at tinahak ang hallway patungo sa ofis ng manager namin. Kumatok na muna ako and pushed the door open. Nagtaas ng ulo si sir and smiled at me.
"Sit down honey," Yun nakasanayan nya itawag sa akin pag kami lang pero pag may ibang nakakarinig, formal Elle tawag niya sa akin.
I sat down dun sa chair sa harapan ng table niya as he scanned through some papers.
"You have an impressive record sa company lalo na sa project natin and I want to thank u for that" sabi niya. "As the management's way of showing our gratitude, please read this and keep it confidential." He handed me two pieces of papers.
I was overwhelmed when I saw those were memos for salary adjustment! Dahil sa tuwa, napalapit ako sa kanya and got his hand saying thank u again and again. Who would ever thought na mag-increase project namin sa panahon ba naman ng recession. Kaya tuwang-tuwang ako at isa ako sa mga may increase. Kaya pala mula pa kaninang umaga me pinatatawag sa ofis at paglabas ng mga to ay masyadong masaya mga mukha nila.
I was holding his hand when he got hold of me and pulled me towards him. I landed on his lap at ramdam ko na ang tigas ng titi niya. I got turned on by the thought of having sex right on his table lalo pat I was reading a story in PL before ako pinatawag. Nagkatinginan lang kami and I never dared to get up. Why should I get up? Yon naman talaga gusto ko right at that moment. Makantot ng todo!
We were kissing torridly without thinking na anytime pwede may pumasok sa ofis niya! He was caressing my breast softly sa labas ng blouse ko at ramdam niya na sobrang init ko na dahil salibog. Bumaba halik niya sa leeg ko habang isang kamay niya humihimas sa binti ko pataas sa aking singit. He unbottoned my blouse and he caught sight of the breasts he had been longing for almost 2 years already.
"I don't have to undress sir" sabi ko kasi baka hubaran niya ko and then mas mahirap magbihis kung sakali. Pero alam ko undressing will never work para di kami mahuli kasi sa act ba naman na nakaupo ako sa lap niya and he is busy sucking my nipple habang lamas-lamas niya yong isa. I was wearing a mini skirt then kaya madali lang sa kanya umabot agad kamay niya sa ibabaw ng puke ko. He motioned me to sit on his table and removed my panty. I sat on his table with my legs widely open for him to devour my dripping pussy. He opened my pussy and sucked my clit. Sarap niya maglaro ng pussy. Swear! He was sucking my juice as it was his favorite cup of yogurt and inserted his tongue inside my hole.
"Sir please don't stop! I'm almost there." sabi ko sa kanya. He continued pressing his thumb on my clit while he inserted two fingers inside my hole. He continued licking my pussy and I reached my first orgasm for that session.
"I want to fuck you now," he told me.
"Let me suck you first. I want to taste your cock," I told him.
"No, wag na muna ngayon baka may pumasok dito," nag-aalala niyang sabi at halatang libog na libog na siya and can't wait to fuck me na. He unzipped his pants and there flew his big cock. Sobrang laki nito at lalo akong na-excite makantot niya. He rubbed his cock sa pussy ko and it feels so good.
"Ohhhhhh… sir please ipasok mo na. I want to feel your cock inside me now sir please." He continued rubbing it in my pussy and he slided it little by little papasok. His cock sliding inside my pussy felt so good.
"Honey you're so tight. Sarap mo puta ka! Noon pa kita gusto makantot!"