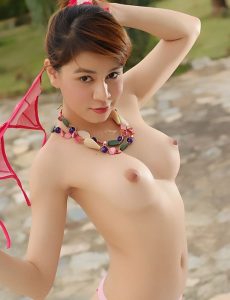 Nakasimangot kong binasa ang cel ko habang bumababa sa hagdanan. I can feel his eyes looking at me. Nakatapat kasi honda nya sa office namin and he can see me thru the glass. I walked to his car and mumble a short HI. And I explained I need eyedrops coz my eyes are tired. I was wearing my pc glasses then and as he drove I started scrutinizing him.
Maliit lang sya, skin head, nde makinis ang mukha. He's wearing glasses din. red faded shirt and pants. All in all cute naman!
Then sabi nya, "Hug me please. Kahit light lang." I told him ayaw kong mgalis ng seatbelt. nde na nya ininsist and we just listened to the music as we drove to our destination.
We kissed. and it was weird kasi bago pa lang braces ko and nakabraces din sya… later on parang bata na tinuturuan lumangoy, natutunan ko na din kung pano humalik ng me bakal sa ngipin.
He was also hugging me tight. Then he started kissing my neck. pipigilan ko sana sya pero humigpit yakap nya saken. I called his name out… he said… "kiss pa din naman to ah… then I started moaning,
He kissed me again and again… sa neck ko… sa ears ko. Binalot nya ng bibig nya tenga ko and I have to gasp for air several times. The only light source was the TV's and u can imagine me fully clothed with my feet kicking and toenails curling.
He kept on saying… "ang bango bango mo… naaadik na ko sayo…ano pabango mo?" I didn't respond. Sabihin ko ba sa kanya na Intense Pleasure by Estee Lauder o iparamdam ko na lang… ehe!
Then he started touching my boobs underneath my blouse. Pumalag na ako… inalis nya. He turned to the other side so that I'll be the one on top. Sexy talaga feeling pag ikaw ang nasa taas. I began kissing him. Gulo gulo na buhok ko kasi hawak nya. I traced his lips. sa loob din ng lips nya. Then his tongue. I began sucking his tongue. I kissed him several times like this. Gstong gsto ko un. Then sya na naman sa top. And this time nde na nakawala ung boobs ko sa kanya..reason nya…kiss din naman to ah..then binaba nya bibig nya sa kaliwa kong suso. Grabe ang pakiramdam ng basang bibig sa malambot kong suso..nilamas nya ang kabila..hinubad na nya blouse ko and bra ko. niyakap ko sya. and sarap hawakan ng likod nya. This is JOhn. Man…. Lalake… Ang init nya iba sa init ko. lahat ng pwede kong idikit sa kanya dinikit ko. For something I have just dreamed off, nararamdaman ko na. This is not just sex. It cant even be love, Ni hindi sya sensasyon. Ang damit nya sa damit ko. Ang tela ng tshirt nya sa hubad kong katawan,..unexplainable. Sana maramdaman nya din un. Pero nde pa ngyn ang tamang panahon ng pagtatanong.
I pulled his shirt off and drank to the sight of his body. Hinaplos ko ang likod nya at tagiliran. Sa kinis nito, parang wala ding pinagkaiba sa balat ng babae. "ang kinis ng balat mo john..", ungol lang sagot nya habang patuloy ang pgsuso.
Naramdaman ko na ang kamay nya sa pantalon ko..tumutol na naman ako…sabi nya sori. pero hinubad ko din pantalon ko. gsto ko ng dry fuck i told him. HIndi nya ata alam un. Ako na nghubad ng pantalon nya. Pumatong ako sa kanya at kiniskis puki ko sa titi nya. Umungol kami ng sabay. Pero nde sya komportable don. Pinahiga nya ako, dinukot ang puki ko. Pinigil ng kamay ko ang kamay nya…pero huli na nag lahat. Ngkasundo na ang daliri nya at ang talukap sa puki ko.And the rest of my body joined in the sensation. Sobrang sarap ng daliri nya. Ngyn lang ako
nahawakan ng ganito. parang daliri ko na din ang humahawak saken. Would you believe I came 2x? First time na ngcum ako sa pgrub lang sa pussy ko…First time na ibang tao gumawa non.
Imagine a girl lying on bed. Him kneeling as he kisses my left boob. His right hand fondling my clit. Inserting a finger on my hole. And I was sucking his middle finger. My right hand stroking his organ, my left hand touching his head.
This went on forever. And I'll give him the credit for being concerned about his partner's pleasure more than his. When he said its my turn to return the favor, I immediately went on top of him. I removed the rest of our clothing and I immediately placed his dick between my pussy lips. Rubbing it. I found myself doing what I have not done before. Fascination to a man's anatomy. I traced every inch of his skin with my tounge. Then dried it off by planting small kisses on the wet parts. my hands continue to roam his body.Exerting pressure along the way. Para na akong porn star sa galaw ng katawan ko. I began inserting his dick on my pussy, he said mamaya na daw. I lay on his side and pull the covers. He put his arms around me and I felt safe.